Enrol for free ISO 45003 Foundations online training to discover the new global standard for psychological health and safety
Workplace Mental Health Blog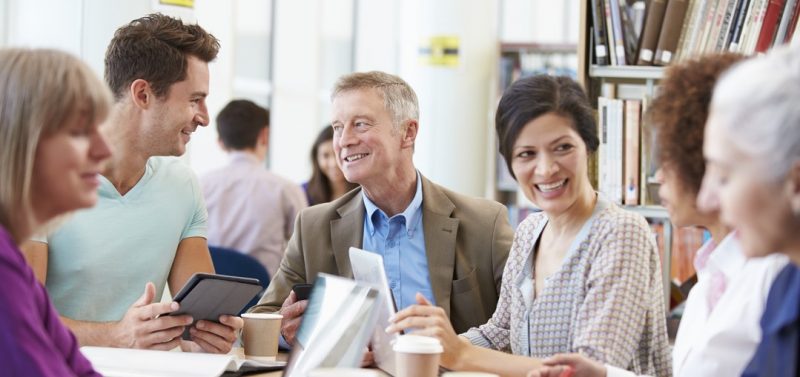 Why is Psychological Health and Safety Important?
Before starting your journey to become a psychologically healthy and safe workplace, it is important to decide why psychological health, safety and wellbeing is important to your organisation. There are many reasons this could be the case including compliance with WHS legislation, increasing productivity, being an employer of choice, or simply because it is the right thing to do. Your "why" may fit under one or more of these headings, or there may be other reasons too.
Reason 1: Compliance
In many countries (and states and territories) legislation exists that dictates how employers should address matters of health and safety. This typically extends to the management of psychological health and safety. This legislation carries many consistencies. In Victoria (Australia), the Occupational Health and Safety Act 2004[1] (OHS Act) requires employers to provide and maintain a working environment that is safe and without risks to health (including psychological health) for employees, so far as is reasonably practicable. This includes:
providing and maintaining safe systems of work, so far as is reasonably practicable
providing information, instruction, training and supervision as is necessary to enable employees to perform their work safely and without risks to health
monitor workplace conditions under the employer's management and control, so far as is reasonably practicable
monitor employee health, so far as is reasonably practicable
consult with employees and health and safety representatives (HSRs), so far as is reasonably practicable, when doing certain things (e.g. identifying or assessing hazards or risks)
attempt to resolve health and safety issues in accordance with any relevant agreed procedure or the relevant procedure prescribed by the Occupational Health and Safety Regulations 2017 (OHS Regulations).
In order to comply with these duties an employer should:
identify and, if appropriate, assess any psychosocial hazards (e.g. role overload, lack of autonomy) that can cause or contribute to stress
implement risk control measures to control the risk
review and revise risk control measures
following a report/injury/incident involving stress, investigate whether psychosocial hazards contributed
FlourishDx can help with the first three of these compliance requirements and provide appropriate language for investigation of stress related injuries/incidents.
Reason 2: Increasing Productivity
Stress related illnesses (including mental disorders) are a leading cause of reduced workplace productivity. In 2014, PwC identified that mental health conditions cost the Australian economy approximately $11 billion in lost productivity due to absenteeism, presenteeism (unproductive time at work), and compensation claims[2]. PwC also found companies that invested in the mental health of their employees saw a positive return of investment of $2.30 for every dollar spent due to productivity gains.
In reviewing compensation claims statistics for 2014-15[3], Safe Work Australia has identified mental disorders (in relation to all workplace injuries and diseases) to result in the longest time off work (median 17.6 weeks), and cost the most (median claim $28,400).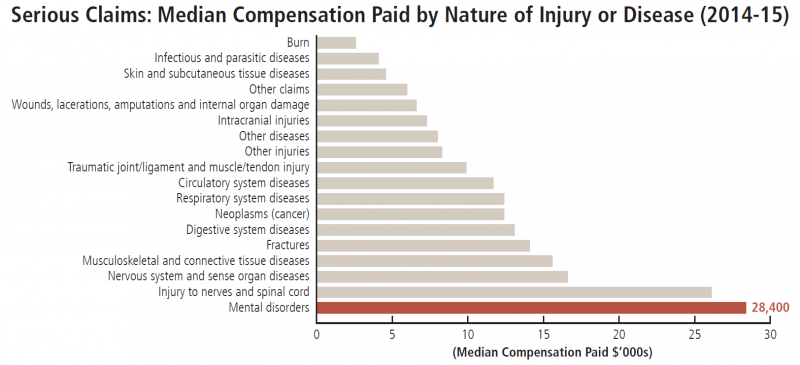 The "Work Design" survey within the FlourishDx platform can be used as a needs analysis tool to identify where intervention is required in order to increase productivity and reduce psychological injuries. It also contains employee educational material on managing stress effectively – which is one of the recommended interventions in the 2014 PwC report to increase productivity.
Reason 3: Become an Employer of Choice
Being an employer of choice means establishing a business that is a great place to work. If employers offer sub-standard working conditions, then they will find it harder to attract and retain talented employees.
Research by Instinct and Reason[4] has identified a mentally healthy workplace as a powerful tool for workplaces to become an employer of choice. The survey of more than 1,000 Australian employees found that 71% of respondents said that a mentally healthy workplace was important when looking for a job in the future.
The same research also found that a mentally healthy workplace helped retain talented people. It makes an employee more committed to their job (60% of those currently in such a workplace) and less likely to seek other employment (68%). Not surprisingly therefore, more than one third of respondents (37%) said that a mentally healthy workplace had encouraged them to stay longer in a job than they would have otherwise.
4. Reason 4: "It's Just the Right Thing to Do"
Mental illnesses have a large, negative affect on individuals, their families, their colleagues, and the broader community. Approximately one in four working adults experience a mental disorder each year. Almost half of all people will experience a mental disorder in their lifetime. With the high prevalence of mental disorders, it's likely most will be affected, or know some who is affected.
Prolonged exposure to stress also effects the physical health of individuals. Physical effects associated with stress include heart disease, musculoskeletal disorders, headaches, gastrointestinal disturbances and various minor illnesses. Stress can also lead to other behaviours that are harmful to health, such as skipping meals, drinking too much caffeine or alcohol, misusing drugs or smoking.
Full-time employees are likely to be working more than any other single activity in their life (except maybe sleeping). Employment has more beneficial effects on mental health than unemployment. This makes the workplace an ideal place to create interventions to not only reduce the community impact of mental illnesses, but to help people realise their potential and create their best possible levels of wellbeing.
Conclusion
Regardless of your reason for creating a psychologically healthy and safe workplace, there undoubtedly many more benefits for proactively addressing mental health, as opposed to doing nothing.
People Diagnostix is proud to have developed a scalable, enterprise level software solution that helps employers create a psychologically healthy and safe workplace by combining risk management with wellbeing promotion at both organisational and individual levels. For more information please visit www.flourishdx.com.
---
---